ZIP Password cracking
Operating program
The program is a dialog window that works in four simple steps.
Introduction
Choosing of file and mode
Choosing of password search settings
Display the information of current work and results

Introduction
Introduction is the first step of interaction between you and the program. During introduction the program offers you to read general information about the process of recovering the lost password. In order to proceed to the next step, you have to press the Next button, located in the lower part of the application.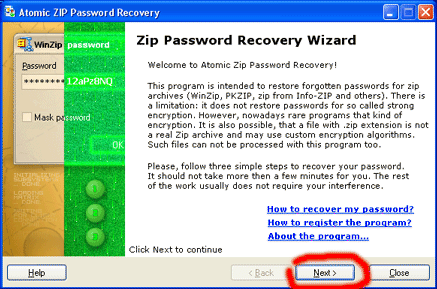 Choosing of file and mode
On this stage you have to choose Zip file and password searching mode. To choose a file press button

, then with the help of the opened explorer window select the necessary file and push the button Open. To set the password recovering mode you have to check the corresponding radio-button. To go to next stage press Next.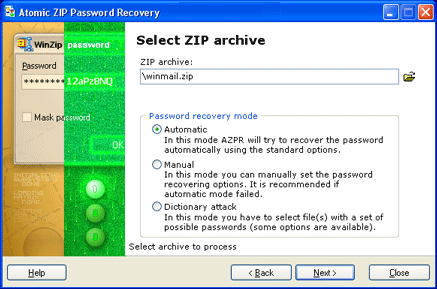 If the Automatic Password Recovery Mode is set the program makes a password search basing on most frequently used settings (such as capital and small letters, 0-9 figures; maximum 5 symbols length password).
If the automatic mode is set the program jumps to final password search stage.
About the Dictionary attack type please refer this section.

Choosing of password search settings (displayed only if the user-defined mode is set)
On this stage you can change the search settings manually:
Password recovery alphabet: here you can specify the symbol set that is a base for search. Choose and check the boxes of corresponding necessary symbols or specify the symbols using User defined" field.


Password length: the choosing of minimal and maximal password length.


In Start search from and Finish at you can specify the starting and ending passwords to check. By default, zip starts from aaaaa and finishes at zzzzz, but you can limit it and increase the password recovery time.

When the parameters are set press Next to start the password recovering. To return a step back, press Back.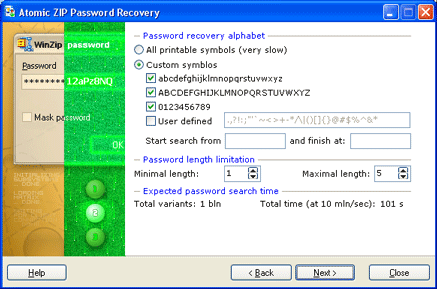 Display the information of current work and results
On this stage you can monitor the program's work and get the final report. During the program work the information of time spent and approximate search time left for password finding (according to the parameters set) is displayed on the monitor. If the program is successfully done the password to you Zip archive is displayed in Password field.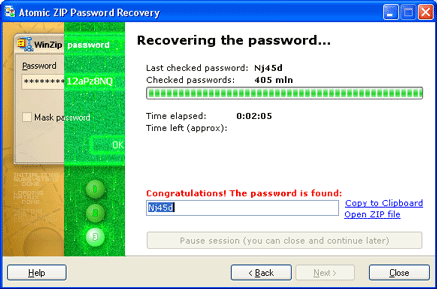 See also:

Technical support


Registration details


More password cracking software